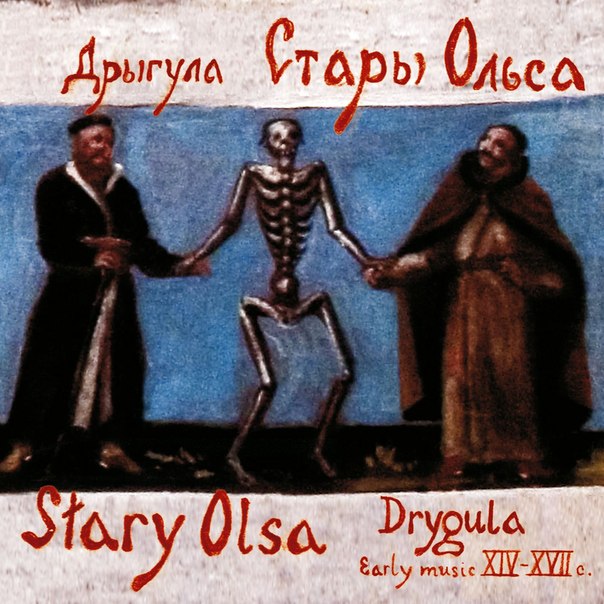 This CD presents dance music from the late Middle Ages to early baroque, written in the Grand Duchy of Lithuania (Polack Notebook) and Western European countries.
While performing these works, the instruments corresponding to their times are used.
On the cover: parts of the Belarusian Dance of Macabre of the 17th c., which is now kept in the Bridget Convent Museum in Hrodna.
Photo by photo master Zmicier Hierasimovič.
The Polack Notebook is a collection of baroque music of the 16-17th cc. (the scientific names are Astramiečava Manuscript or Manuscript No 127/56 of the Jagiellonian Library, modern archive signature No 10002). After World War II, a Belarusian Uniate liturgy book (diurnal) from German repositories happened to be in Poland and in 1956 it was brought to the Library of the Jagiellonian University in Krakow. This liturgy book cover had an attached manuscript note which was found by Belarusian professor Adam Maĺdzis in 1962. Jerzy Gołos, a Polish music scientist, studied this manuscript. Since then in encyclopedias he is presented as its "official discoverer". The manuscript was written in the village of Astramiečava (Brest Region, Belarus), but it belonged to the Polack bishop, therefore it was called the Polack Notebook. Nowadays, the works from the Polack Notebook are integral parts of Polish and even German musicians.
Tracks 1, 3, 6, 8, 10, 11, 12.
Valentin Bakfark (1506–1576) was a lutenist and composer of a Hungarian origin. He lived in Viĺnia and became one of the famous Renaissance lute virtuosi; he created a completely new lute playing technique based on vocal polyphony; the author of the Galliard dance (7).
 
Adrian le Roy (1520–1598) was a French lutenist, composer and publisher. He edited several compilations, including three of his own, as well as collections of tablatures for guitar and citole, which contained pavans, galliards, allemandes, branles and tourdious, as well as chansons and fantasia; he is the author of the Pasamezzo dance (5).
 
The dances of Bransle des Lavandieres(2), La Brosse (4) and Trotto (9) are of a Western European origin. The dance of Drumul Draculi (13) is of a Hungarian origin.
1. Drygula
2. Bransle des Lavandieres
3. Fatalia Blazenska
4. La brosse
5. Pasamezzo
6. Taniec I
7. Galiarda
8. Pagamoszka
9. Trotto
10. Niemiec
11. Taniec II
12. Witany
13. Drumul Draculi