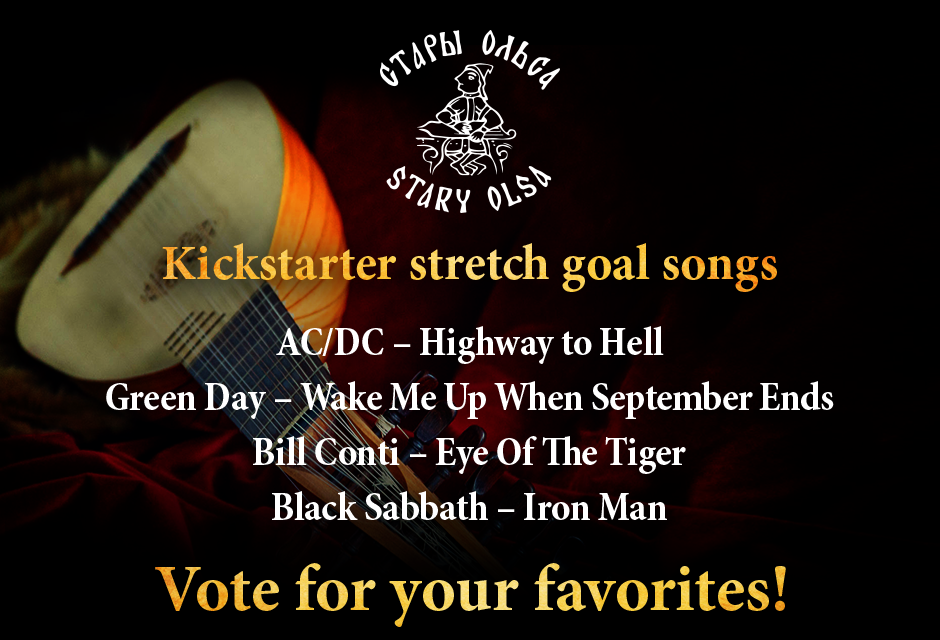 We made it! Now on to the next level!


Dear friends!It's been so great to see your interest in our project!
We started out with a project goal of $7,000. Wow, you have kept giving beyond our goal! So we came up with some new ideas, and set a new "stretch" goal!
First of all, we are adding some new rewards to the project. Have a look at the reward list over the next few days, and you will see some cool new goodies! Some will be expensive, but we have some more affordable ideas too.
Secondly, the Stretch Goal! We decided that if we raise $10,000 we can add TWO NEW COVERS ONTO THE ALBUM! We have 4 great songs that we could record, without adding any big delays to our production plan. They are:
AC/DC - Highway to Hell
Green Day - Wake Me Up When September Ends
Bill Conti - Eye Of The Tiger (from the Rocky movies)
Black Sabbath - Iron Man
We'd like your help to choose the Stretch Goal Songs! Please vote for your favorites!
HOW TO VOTE:
The two songs with the most votes will be included in our album "Medieval Classic Rock"! We're looking forward to hearing your responses.

Last but not least: Don't forget to tell your friends, bloggers, and anyone else you can think of, about this project! Help us reach everyone who loves historic music!

And we are preparing an AMAZING GIFT for backers! It is ARCHAIC GUSLI made by our vocalist and master Ales Chumakou! Gusli is a is a medieval multi-string plucked instrument and mentioned in Belarus since 12th century.

SUPPORT US:https://www.kickstarter.com/projects/staryolsa/stary-olsa-album-medieval-classic-rock